WALTHER STEEL FRAME HOLSTER OPTIONS
Finding a holster for a newly released handgun can be a challenge. We put together this quick article to assist you in your pursuit. The Walther Q4 Steel Frame and the Q5 Steel Frame models were a return to our "Steel Frame" roots as a company. These models are closely related but they're unique in their own right. The Q5 Steel Frame is more competition based while the Q4 Steel Frame is duty-driven.
That being said there a number of holsters currently on the market for these two titans. We are working with a number of holster manufacturers right now to bring you even more options. Hopefully, you'll find this list useful. If you're aware of any holsters for the Steel Frame series please let us know so we can keep this article updated! 
NOTE: There are a number of holsters available from Safariland that are made for competitors' handguns that will work with various Q4 SF and Q5 SF models. They work when certain weapon lights are mounted to the SF models. We did not include those on this list because they are not officially approved and thus we do not want to cause any confusion.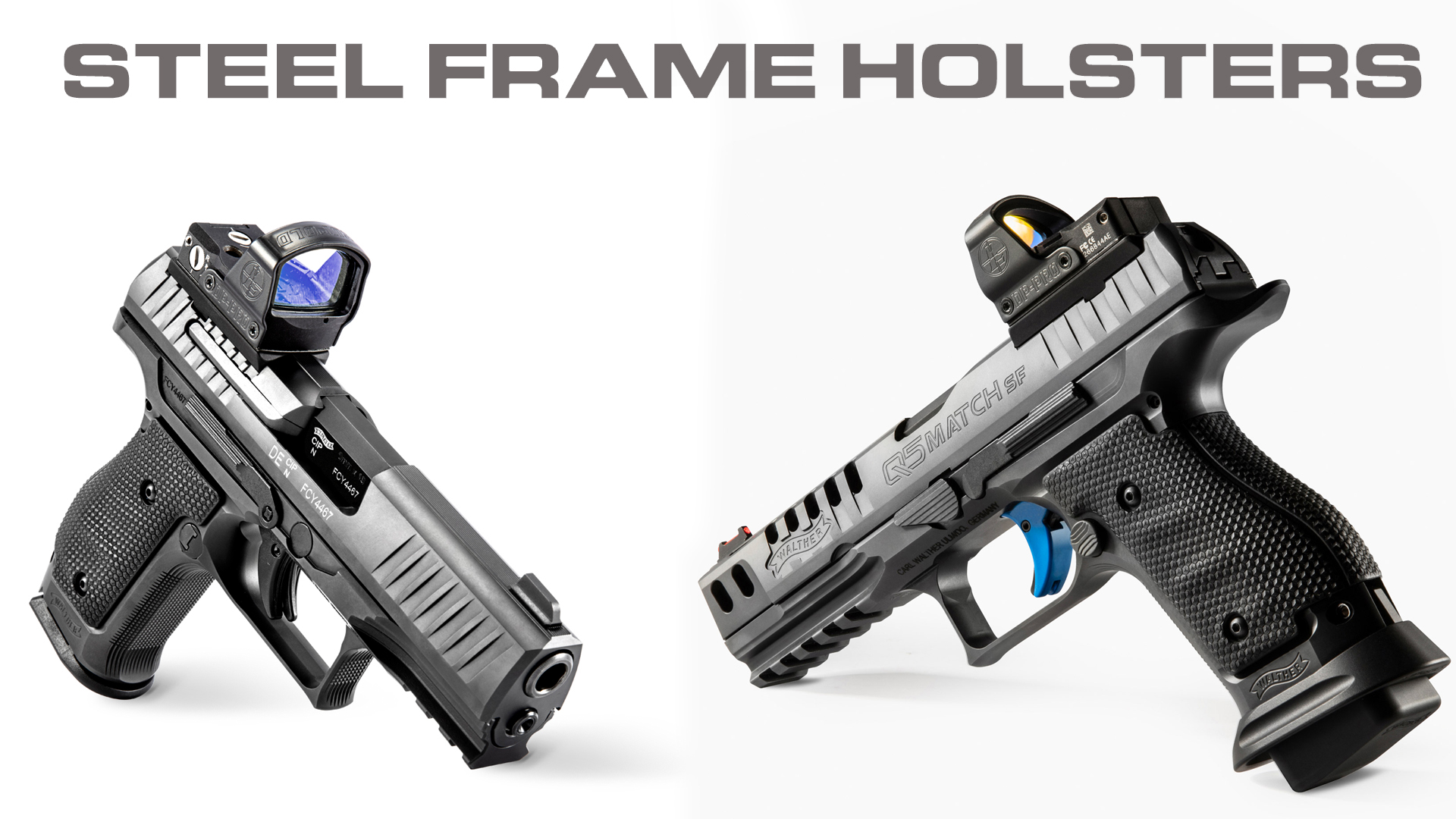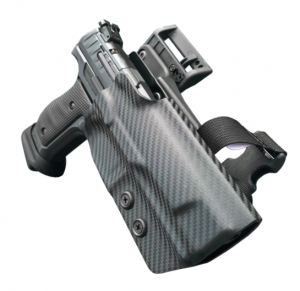 The Custom Drop Offset Action Sport Holster is an Outside the Waistband Holster designed for the quickest draw possible, featuring two ejection port cut options allowing for the fastest target acquisition during competition. This holster is ideal for range time, IDPA, USPSA or other competitive shooting matches.
*Fits Q4 SF and Q5 SF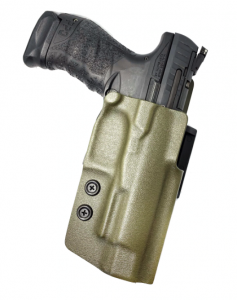 The Dara Custom Action Sports Holsters is the top choice for a quick draw outside the waistband holster. With two different Ejection Port cut outs*, this holster is designed for the quickest draw possible while maintaining IDPA legality. Made with thick .093″ Boltaron/Kydex and fastened using Melonite coated Stainless Steel hardware, our product is not only impervious to rust, it's built to last a lifetime. 
*Fits Q4 SF and Q5 SF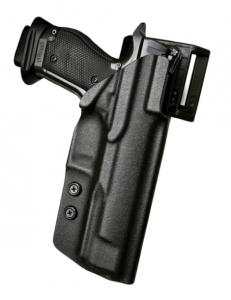 The Custom Optic Cut OWB Holster is designed to accommodate any firearm with a red dot sight mounted to the top of the slide. This holster fits outside the waistband with a minimalist design that leaves no extra material weighing you down. The top of the holster is cut away to clear the optic, leaving everything else covered, including the trigger guard and magazine release button. Does your gun have suppressor height sights that co-witness with your optic? No problem! Care is taken while molding to accommodate most suppressor height sights.
*Fits Q4 SF and Q5 SF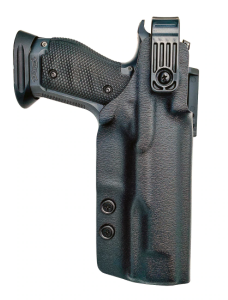 Dara's Level II Duty Holster is not just any OWB Holster with a hood slapped on it. It was designed from the ground up for the rigors duty and guaranteed for life. Starting with a robust body formed using .125″ purpose blended Polymers, then fastened with blackened stainless steel hardware. This rig utilizes our tried and true Military Grade adjustable Rubber Retention System that allows you to tune the resistance to your preferred draw stroke. Our auto throw-hood is locked in place until the intuitively located thumb lever is depressed. The hood then rotates with enough force to move loose garment, making your firearm ready when you need it. Don't settle for less- if you demand quality and endless reliability, you've found it.
*Fits Q4 SF and Q5 SF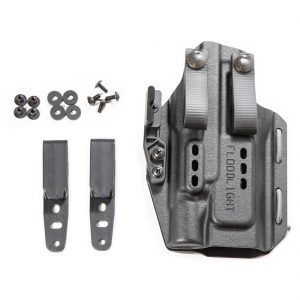 The ambidextrous Floodlight holster includes IWB soft loops and belt clips, features adjustable retention, adjustable slide-contact, adjustable ride height, and can be carried AIWB or strong-side IWB. Fits pistols with the X300 Ultra, A /B, attached OR TLR-1/HL.
*Fits Q4 SF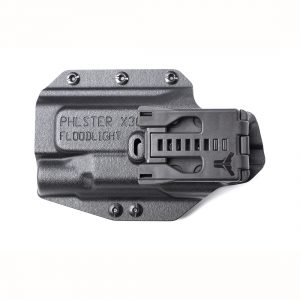 The OWB Floodlight brings universality from concealment to the range. Compatible with Blade-Tech, G-Code, and Safariland attachments, the OWB Floodlight is ambidextrous and adjustable to fit just about any pistol capable of mounting a Surefire X300 or Streamlight TLR-1. The OWB Floodlight includes a Blade-Tech Tek Lok belt attachment and three adjustment hardware kits to achieve the best fit on your pistol. The hardware kits are color-coded, to keep the appropriate screw lengths with their respective spacers. Please be sure to refer to the Instructions page for details on adjusting your holster.
The OBW Floodlight is compatible with slide mounted optics, suppressor sights, and muzzle devices, making it perfect for range, training, competition, and light-duty use. 
*Fits Q4 SF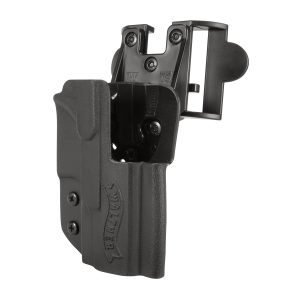 The Comp-Tac International Holster is cut down in the front to fit most Optic Sight and has a .5″ tall sight rail to fit most suppressor/optic co-witnessing sights. 
The International is an outside the waistband (OWB) holster with a modular mounting design giving the user 16 holster options in 1. 
Key Product Features: 
(3) Mount Options included- Belt Mount, Paddle Mount, Drop Offset Piece
Cant Adjustable | Belt Width Adjustable; 1.5″ or 2″ | Retention Adjustment- Allows Customer to Tighten or Loose Holster Hold on Firearm
*Fits Q4 SF and Q5 SF (Available on Shop.WaltherArms.com SOON!)
FITS: Q4 Steel Frame & Q5 Match Steel Frame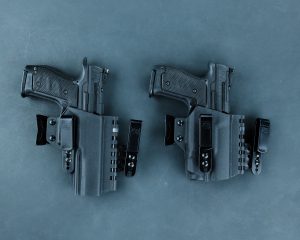 The new Sidecar holster (inside-the-waistband) features the T.REX ARMS Spine System. This provides maximum comfort and concealability, but since it is a single-axis pivot system, It features adjustable retention and adjustability of holster ride height and cant.
Accommodates most standardized slide-mounted optics, threaded barrels, suppressor height sights.
Can be paired with any Sidecar attachment for a pistol mag, rifle mag, tourniquet, handcuff, or run with a Raptor Wing, for a stable two-clip design.
Available in multiple colors, left or right-hand support, and no-light or weapon-mounted-light compatibility: TLR-7, TLR-1 and X-300.
FITS: Q4 Steel Frame & Q5 Match Steel Frame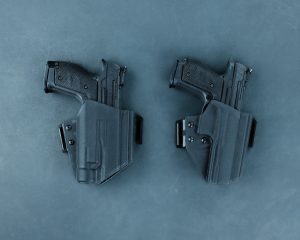 The Ironside is an OWB (outside-the-waistband) concealment holster with adjustable retention, specifically designed to fit comfortably snug to your waist in the 3-5 o'clock position. The Ironside is ideal for people wanting to carry concealed under a jacket or button-up, or for people who just don't feel comfortable carrying inside the waistband. It features 1.5″ or 1.75″ belt loops which are adjustable so you can set the angle (cant).
Sold separately is the Ironside Carrier System, which includes dedicated OWB concealment holsters for pistol mags, rifle mags, CAT tourniquets, and handcuffs.
Available in multiple colors, left or right hand support, and no-light or weapon-mounted-light compatibility: TLR-7, TLR-1 and X-300.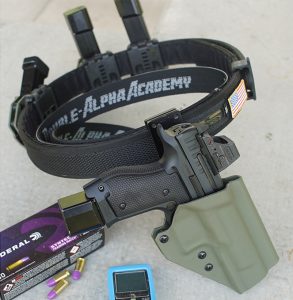 The Ragnarok holster was made to be extremely modular, tough, modern, and fast. Made from heavy duty .125 precision-formed Kydex, it is quite the beast of a holster. While the Ragnarok is a passive-retention holster (no hood/strap/button to deactivate the holster), it features adjustable retention using screws along the edge of the holster.
The main thing that makes the Ragnarok unique is the modular hole system on the back that accommodates a variety of mounting options, from simple belt loops to a whole QLS system. With belt loops, the weapon rides very close to the body, which is good for concealment. Or it can be used for competition or range use with paddles, offset mounts, or leg rigs.
The Ragnarok is compatible with accessories from Safariland, Bladetech, Blackhawk, G-Code, S&S Precision, and other manufacturers, perhaps making it the most modular holster on the market.
*Fits Q5 SF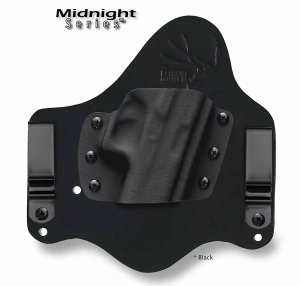 Exarchy™ Holster Co. was founded in 2017 for one reason, to make a handcrafted holster that functions flawlessly, feels great, and looks amazing. Our founder grew up in Texas, where hunting and shooting was a way of life. He purchased his first handgun (S&W model 442) for concealed carry at the age of 21. He's been carrying concealed for years, but until founding the company, never had a great concealed carry holster. The marriage of old fashion leather work and new modern plastic materials have dawned a new age for firearm holsters. We didn't invent the hybrid holster; we just made it better.
*6 Models for the Q5 SF (Click to see available models)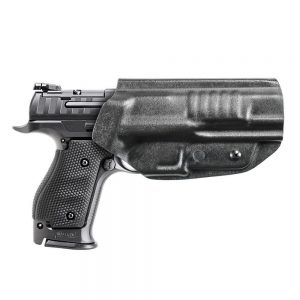 C1 Competition holster is designed for competitive shooting environments. The holster sits slightly off the body that allows you to quickly get a full firing grip on the handgun. The Easy on-off Tek-Lok allows for quick changing of gear without having to thread a belt, as well as adjustable ride height for different shooting sports. There is also two points of retention adjustment to allow for full customization of the holster.
The c1 is Legal in all IDPA, USPSA, IPSC, and 3 Gun Nation Events while using the corresponding mount for each division.
*Fits Q5 SF (Available on Shop.WaltherArms.com)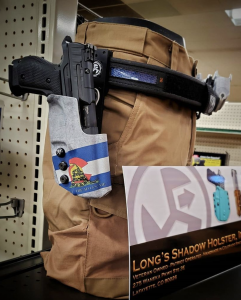 The Huron holster was designed with the goal of creating the best Competition holster with direct input from professional shooters. After tremendous trial, design, and review we released this model to give its user every advantage. Each holster is verified to the measured parameters set by USPSA/IPSC/IDPA/3-Gun division rules. Whether just a beginner or training to take a National or International Championship, you can count on your holster to perform flawlessly. This model uses .125″ for solid colors, Black Carbon Fiber, and MultiCam® and .100″ for some prints.
*Fits Q5 SF
mernickleholsters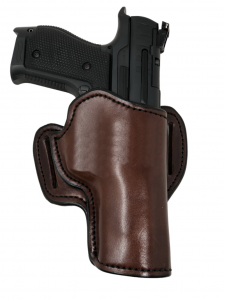 This is our Walther Q4 Steel Frame and the Q5 Steel Frame models specific holsters. The PS06 R1 is designed for an extreme hi-rise carry. This holster offers the best of both worlds. Not only does it allow you to carry a full-size automatic handgun with a double stack mag. It's totally concealable. Our unique design has our patented stabilizer flap that goes behind the belt. This prevents the grip of the gun from tipping away from the body while doing daily activities. The hi-rise also allows for a quick draw with a lowered sight channel.
*FITS Q4 AND Q5 STEEL FRAME MODELS
Renaissance Firearms has 7 holster options to support the Q4 Steel Frame and Q5 Steel Frame models. You can view all of them here > Click Me <
This outside the waistband holster is designed for competition or range use, not for concealed carry.  The double layer construction adds strength and gives a pop of color. We offer 3 different belt mounts or you provide your own. The Tek-Lok can be adjusted for belt sizes from 1.25 to 2 inches. The Paddle is a low profile option for quick on use. The aluminum drop mount is intended for competition use and is bolted to the belt.
*Fits Q4 SF & Q5 SF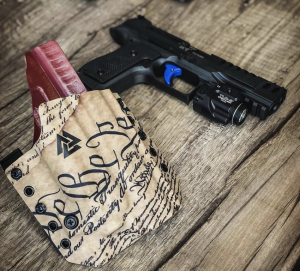 Odin Holsters has a number of Q5 SF custom holsters available: Select Q5 SF from Dropdown menu on their website: 
Odin OWB | Tactical Valknut OWB | V2 OWB Slim | Valknut IWB
*Fits Q5 SF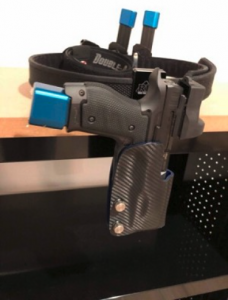 This is the top of the line Red Hill Tactical Competition Holster as used by many shooters around the country.  This features two layers of Kydex to add a great deal of rigidity to your holster.  In addition to the rigidity, it gives you the ability to further add to the custom look of your rig.  
As with all Red Hill Tactical holsters the front is low cut to aid in a quick draw.  All competition holsters come with adjustable retention either via screws or optional knobs.  
With this holster, we also give you the ability to chose your mounting system either loops, tek lok, or drop.  Additionally, this can be ordered with no mount, and you can add on one of our Red Hill Tactical drop offset hangers to accompany your choices.  
*Fits Q5 SF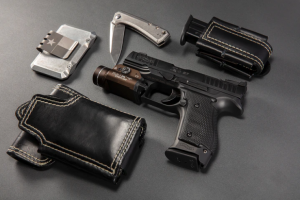 MGL WML (Weapons Mounted Light) Holster Burro, (Outside the Waistband) is designed to hold the most commonly used large/medium framed semi-auto pistols equipped the Surefire X300® or the Streamlight TLR1®. Whether you use the G34, G19, G17, FN509, FNX45, FNS9, Sphinx SDP9, Sig221, M&P9, M&P VTAC, STI DVC Tactical, 1911 with rail, CZP-09, just to name a few examples, can be used equipped with your choice of the Surefire X300-U® or Streamlight TLR1®. Having one holster that can carry most pistols that one may own.
*Fits Q4 SF